When you are in the market for a new vehicle, there are many things to consider. One of which is how you plan to finance your next car. Are you wondering, "should I buy or lease?" The answer is finding out what works best for you in terms of leasing vs. buying. There are advantages and disadvantages to each option, so it is important to keep your budget in mind as well as your driving needs. Hendrick Chevrolet Hoover is here to help you make an informed decision regarding leasing vs. buying, so you can be completely happy in your new vehicle of choice.
---
---
Benefits of Buying
Drive as much as you want: If you're driving your vehicle inside and outside of the Bessemer area quite frequently, buying your car may be your best bet. There are no mileage limits if you purchase your car, so you can drive wherever and how often you want.
The vehicle is yours: Many Vestavia Hills drivers like the idea of total vehicle ownership and the freedom it provides.
Customize the car as you see fit: Want to make your new vehicle stand out among the crowd? If you purchase your car, you can make any modifications you want. The possibilities are endless!
Sell the vehicle whenever you want: Any time you want to sell the vehicle, you are free to do so.
Flexible financing: The car financing process is typically a bit more straightforward when compared to leasing. When buying, you can also refinance your loan to lower your interest rate and monthly payments.
Ownership becomes more affordable over time: Initially, it is generally more expensive to buy your vehicle, but the vehicle becomes less expensive to own the longer you have it. Once it is paid off, you no longer have to worry about making a car payment.
Benefits of Leasing
Monthly payments are lower: Whether it's monthly payments or down payments, those costs are typically more affordable when you decide to lease.
Lower sales tax: In most states, leasing a vehicle drastically lowers sales tax. In some areas, you only have to pay tax on the amount you put forth in the down payment and for the monthly payments.
Trade-Ins are simple: At the conclusion of your lease agreement, all you have to do is visit your Hoover dealership, pay any remaining fees, and select another vehicle to lease or buy.
Peace of mind from warranty coverage: Warranty coverage and maintenance is hassle-free when leasing. Most vehicles are covered by a warranty throughout the entire lease agreements, so you don't have to worry about any out-of-pocket expenses.
Drive a new vehicle more often: When you lease, you have the option to drive a new car more often. That means you always have the latest tech and safety features available to you.
High approval rate: While you may be denied for a car loan, it is much easier to get approved for a lease, as even those with poor or no credit can be approved.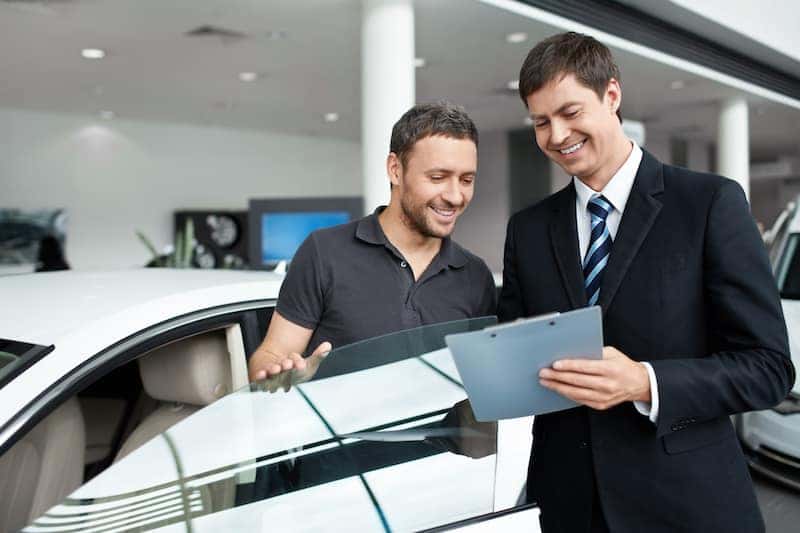 Learn About Leasing & Financing Options with Hendrick Chevrolet Hoover
Both financing options have plenty of perks, so it is a good idea to evaluate your needs and budget before making a decision. Should I buy or lease? The choice is really up to you. At Hendrick Chevrolet Hoover near Birmingham, you can't go wrong with either method. Contact us today if you have any questions about vehicle financing or trading in your old car. We can also help you find the perfect car or determine which Chevy truck or Chevy SUV is right for you.